The Fair
THE BUSINESS FAIR WHICH THE INDUSTRY AND THE WINE MARKET EXPECTED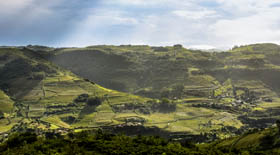 • CARRIED OUT IN THE SIERRA GAÚCHA
• ROBUST CONTENTS GRADE
• FOCUSED IN BUSINESS
• QUALIFIED VISITATION
WINE SOUTH AMERICA - International Wine Fair is born from the need of the Brazilian industry to show its variety of wines and launches, as well as the desire to expand its business to new consumer markets.
In this great meeting of the sector, the main players present their launches and novelties during 4 days, for those who decides and moves the wine market in Brazil and abroad.
VERONAFIERE, Leader in world fairs of the wine sector.
Held by Milanez & Milaneze, a Veronafiere Group company, leader in exhibitions in Italy and second in turnover in Europe, WINE SOUTH AMERICA will have all the know-how of VINITALY, which for more than 50 years is the trade show world reference in the wine sector.
KNOW WHY WE ARE REFERENCE
42
EVENTS IN ITALY
19
EXTERNAL EVENTS
726.500
SQM COMMERCIALIZED
13,100
EXHIBITORS
1,200,000
VISITORS
+ 1000
BUYERS OF MORE THAN 100 COUNTRIES.
*2017 Data
ACTIONS TO ATTRACT OTHER NATIONAL AND INTERNATIONAL BUYERS
BUYER PROJECT
MORE INTERNATIONAL BUYERS. MORE EXPORT
Invited by WINE SOUTH AMERICA, in partnership with IBRAVIN, important international buyers come to do business in the Fair.
---
EXPORT + WINE SOUTH AMERICA
MORE VISIBILITY FOR YOUR BRAND
Exclusive service to exporting companies present at the Fair to promote their brands abroad. Extensive exhibition of export brands: dissemination on the website of the fair, newsletter for the international market, presence in the guide of visitors, adhesive stamp on your booth and much more.
---
DISTRIBUTORS PROGRAM
MORE QUALIFIED VISITATION. MORE RESULTS.
WINE SOUTH AMERICA, brings wholesalers and distributors from all over Brazil, indicated by the exhibitors, to visit the Fair, know the launches and buy.
---
CARAVANS WINE SOUTH AMERICA
MORE RETAILERS. MORE BUSINESS.
WINE SOUTH AMERICA organizes caravans with Retailers from the interior and from other states, to increase the generation of business during the Fair.
---
IMAGE PROJECT
Implemented in partnership with IBRAVIN, it disseminates the Brazilian product in specialized international media, strengthening the image of Brazil as a major producer and exporter of wines worldwide.